It's official, the holiday season has arrived! This means it's about time to start detangling your Christmas lights, picking out the perfect pine tree, and garnishing your home with festive holiday decor.
While decorating your home is typically a joyful way to spend time with family and get into the Christmas spirit, you may find yourself saying "Be careful, don't scratch the floor!" If you are looking for worry-free ways to decorate this holiday season, you've come to the right place. The experts at Flooring America are here to give you all the tips and tricks to protect your floors while putting up your Christmas tree this year.
Prep Your Designated Tree Space
Typically, as the focal point of your Christmas decor, your Christmas tree needs a space where it can truly shine. Pick a place in your house that is easy to access under and around your tree and the tree stand. This will make cleaning and maintenance much easier.
Once you have your perfect spot, you'll want to sweep, vacuum, and clean thoroughly before positioning the tree stand. An initial cleaning prevents any dirt, dust, or debris from getting caught underneath and potentially causing damage to your floors.
Next, double-check that your stand is stable and secure, this way you don't have to worry about any movement causing scratches. Prepping your tree space is the best way to protect your flooring and set you up for success, whether it's in your dining room or your living room.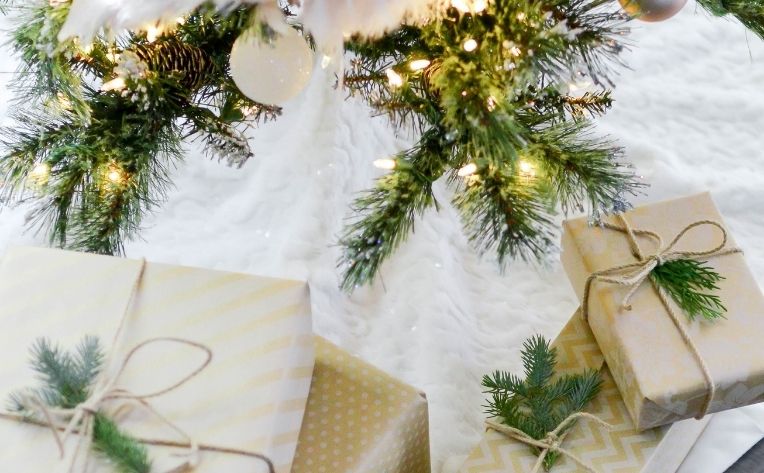 Use a Sturdy Tree Stand and Debris-Catching Tree Skirt
Christmas tree skirts have come a long way since the hand-stitched one wrapped around your grandmother's tree. Now you can buy all sorts of mats, trays, and skirts that protect your flooring and your floor's finish and top coat from spilled water, dirt, dust, debris, or fallen needles while still looking festive.
Whichever you decide, make sure you're limiting the potential for water damage and excess moisture. Stands can be overfilled, or water can get knocked out onto your flooring quite easily. If you cannot wipe up spills right away, water may seep into absorbent materials that can trap the water on your flooring for an extended period of time.
Even if your flooring is water resistant, it's still a good idea to not let the liquid sit for an extended amount of time to prevent permanent damage to the surface and protect your floors. Be sure to test your tree stand or skirt to ensure it can withstand spills and properly protects your flooring, especially in high-traffic areas.
Prep the Tree Outdoors
Before you bring your tree inside, whack the trunk straight down on the ground, preferably on the pavement, a few times. This will help any loose needles fall out before they make their way into your house and onto your flooring, greatly reducing your chances of finding leftover needles in the middle of June.
Once you give the tree a good thump, be sure to wrap it up before pulling it through the front door to protect your floor from any scratches or scuffs. Even with proper prep, it's likely there will still be stray pieces of pine needles on the surface of your floors.
In this case, use a quick sweep or vacuum to remove debris before it has the chance to hide in your interior hallways, stairs, mud room, or anywhere else during the transportation process of your tree.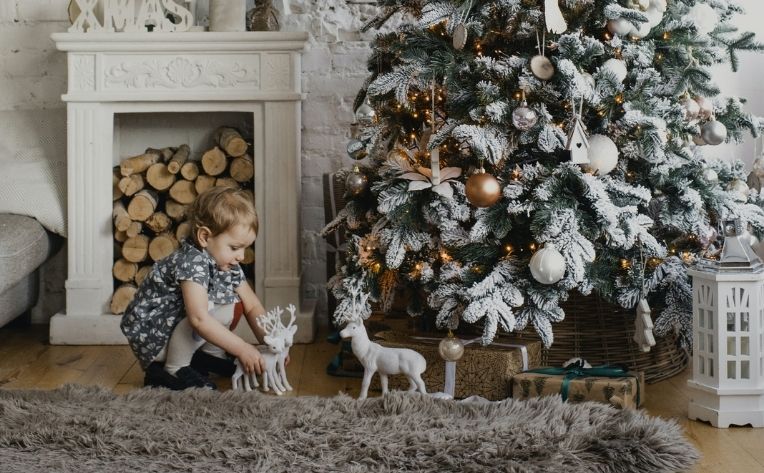 Minimize Debris with Garbage Bags
Large garbage bags, tarps, or blankets come in handy when moving your tree in and out of your house. They are the perfect tool to prevent loose needles from scattering all over your flooring in transit, thus keeping things cleaner in the process.
When you're ready to bring your tree into the house, place one garbage bag around the base of the tree and pull it up to cover as many branches as possible. You can also place a trash bag over the top of the tree if one bag isn't large enough. Just be sure to remove the top bag before you stand your tree upright, or all the needles it catches will fall out onto your flooring.
Whether you use trash bags, a large tarp, or a blanket, you can minimize dirt, dust, and debris and make initial cleanup a breeze, all while you protect your floors.
Ask for a Helping Hand When Putting Up Your Tree
Because of its size and awkward shape, moving a Christmas tree can be a nearly impossible task on your own. It's always best to ask someone for a hand when moving the tree in and out of your house. With at least two people, you won't have to worry about the tree dragging against your beautiful hardwood floors, making it a scratch-free process when transporting the tree throughout your hallways.
To maximize your efficiency, think ahead by coordinating a route from off the roof of your vehicle to standing upright in the tree stand. Remember to always drag or carry your tree trunk first.
This makes it easier to fit through small spaces or narrow areas while reducing needle fallout on your flooring along the way. Putting up a Christmas tree is not only more feasible with a friend, but it's also much more fun!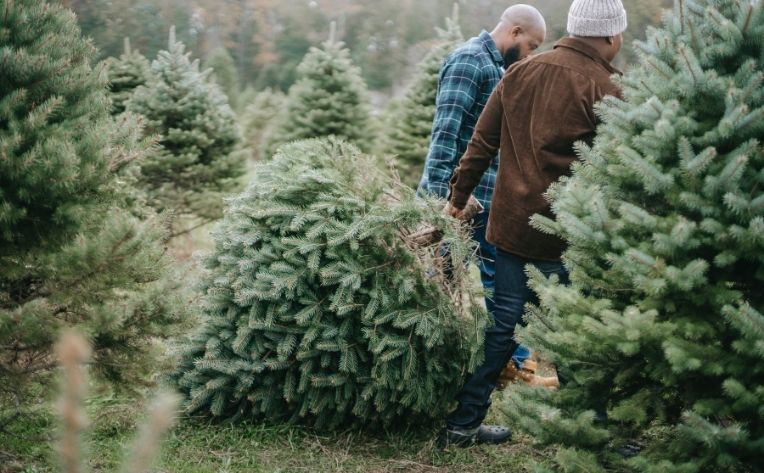 Strategize Tree Decorations for Minimal Damage
Once your tree is locked into its designated space, the real fun begins—stringing lights, draping garlands, and hanging ornaments, all to be topped off with your showstopping tree topper! Remember to be extra careful where you place certain decorations on your tree as fallen ornaments could damage your flooring, whether you have carpet, wood, tile, or any other type of flooring.
Fortunately, there are ways to protect your flooring with the proper care and by following our tips and tricks. Heavier ornaments should reside on sturdy branches lower to the ground, removing the risk of dents or scratches—not to mention shattering your favorite ornament. Lighter ornaments can be scattered higher on the tree, just make sure to test the branch first to prevent scratches and prevent scuffs.
Keep Your Floors Scratch-Free with Proper Christmas Tree Maintenance
The first step to your tree durable and long-lasting is by keeping it hydrated. This helps it retain its needles throughout the month of December. Just take care to avoid overfilling or spilling water out of your tree stand—as this has the potential to cause water damage and stains to your flooring.
Plus, it might be a good idea to use felt pads on the bottom of the legs of your tree, as felt pads can help prevent damage to your floor with ease. Additionally, try to sweep and vacuum around your tree as often as you can.
This will stop any needles from being stepped on and dragged across your floor. Some fallout is expected, but if you commit to a regular tree maintenance schedule, your home will look and feel like Christmas without any wear and tear on your beautiful wood floors!
More Questions About Protecting Your Floors?
For more tips and tricks about keeping your flooring protected, or if you're reading this and realize you need more than some tips—you need new flooring—contact your local Flooring America and talk with one of our experts. We can help your home stay holiday-ready and send you on your merry way!